Master Guide 3


Data de Lançamento :
18 de Março de 2011
Cartas Promo :
MG03-JP001
Ultimate Temporal Machine God Sephiron
「究極時械神セフィロン」
LIGHT/Angel - Effect/10/4000/4000
This card cannot be Normal Summoned or Set. This card cannot be Special Summoned except if there are 10 or more monsters in your Graveyard. Once per turn, you can Special Summon 1 Level 8 or higher Angel-Type monster from your hand or Graveyard. Its effect(s) is negated, and its ATK becomes 4000.
Esta carta nao pode ser Normal Summoned ou Set. Esta carta não pode ser Special Summoned Exceto se existem 10 ou mais monstros no seu Cemiterio.Uma vez por turno,você pode Special Summon 1 Monstro Nivel 8 ou maior Angel-Type da sua Mão ou Cemiterio.Seu efeito é negado e seu ATK se torna 4000.
MG03-JP002
Shooting Quasar Dragon
「シューティング・クェーサー・ドラゴン」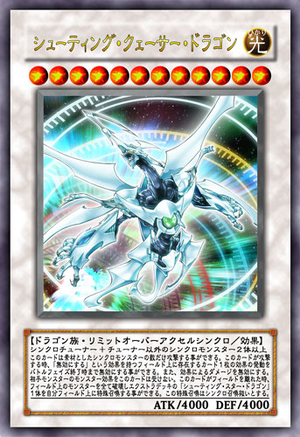 LIGHT/Dragon - Synchro - Effect/12/4000/4000
1 Synchro Tuner + 2 or more non-Tuner Synchro Monsters
This card cannot be Special Summoned except by Synchro Summon. {the rest is unknown...}
Esta carta não pode ser Special Summoned Exceto por Synchro Summon. {O resto é desconhecido...}
[OCG] Master Guide 3
Reviewed by
Alien
on
23:50:00
Rating: