Yoo minna-san, Hoje trago a Carta da Semana:
Agora a Carta da Semana será nas sextas-feiras junto com os Amv do Judai.
Elemental Hero Prisma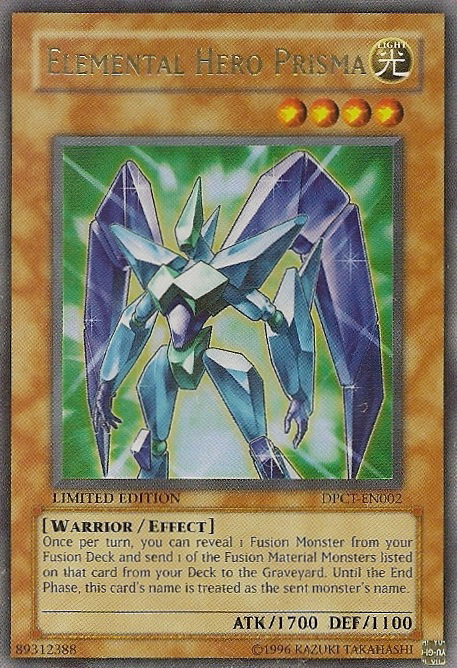 Atributo: Light
Tipo:Warrior
Nivel:4
ATK/1700
DEF/1100
Efeito:
Mostre 1 Fusion Monster do seu extra deck ao seu oponente. Envie 1 Monstro Material de Fusão listado naquele Fusion Monster do seu Deck ao seu Cemitério para que o nome desta carta seja tratado como o nome do monstro enviado ao Cemitério até a End Phase deste turno. Este efeito somente pode ser usado uma vez por turno.
1º

Elemental Hero Prisma mais Elemental Hero Necroshade:
Use o efeito do Elemental Hero Prisma escolha o Elemental Hero Necroshade então você poderá envocar um Elemental Hero sem tributar.
2º Elemental Hero Prisma mais Monster Reborn:
Envie um material de fusão ao cemitério e retorne ele,daí poderá usá-lo novamente e fazer a fusão que deseja se tornar mais facil de ser realizada.
3º Elemental Hero Prisma mais Phantom of Chaos:
Use o efeito do Elemental Hero Prisma e depois use o efeito do Phantom of Chaos então ele poderá ser muitas cartas(até o Destiny Hero – Plasma).
4º Elemental Hero Prisma para Exodia?
Use o efeito do Elemental Hero Prisma envie um monstro ao cemitério use doublé summon envoque outro Prisma e outra carta para o cemitério então faça isso até diminuir o deck bastante para vence

r.
e 5º Elemental Hero Prisma e Rainbow Dragon ou Elemental Hero Neos:
Esse combo é o meu favorito uso o Prisma pra Invocar o Rainbow Neos...
Quantos "Elemental Hero Prisma" posso usar em meu deck?
R: Use e Abuse, pode usar até 3 em cada deck.
Lembrando: Existem muitas formas otimas para usar o Prisma hoje eu só citei 5...xD
Carta da Semana
Reviewed by
GameMaster
on
00:20:00
Rating: